Efterklang interview
Written by Bradley Pinkerton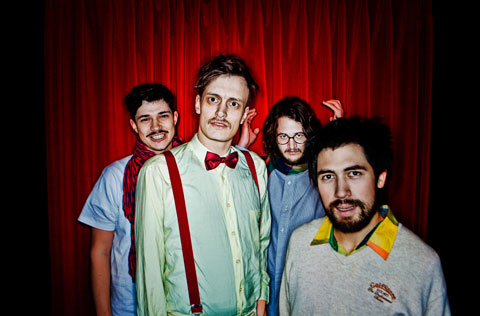 It was a couple of years ago now that I first discovered the alluring and moving sounds of Efterklang. Over the years I have listened to them and the amount of memories and feelings they have made me feel through their powerful music is countless. Their sounds can vary between something deeply personal as well as introverted, like a tiny whispers, to thundering instruments with vocals reaching out and touching you as you listen.
The first Efterklang CD I bought was 2004's Tripper. After listening to the whole CD from start to finish I was compelled to listen to it again and again. I had never heard such beautifully constructed songs. Quiet beats at the start of the songs set up the entire mood as an interesting ride of different musical styles. All the different styles seem to however have precise composition and fit together perfectly. The vocals on the tracks were so organic and personal it would be impossible for me to not skip the song. The emotion put into each song could clearly be felt as I listened excessively to each track.
They have released three EP's and one album, 2007's Parades, since Tripper and each has had the same powerful consistency that has gained Efterklang musical respect all over the world. After finishing an amazing world tour for the Parades album Efterklang have been busy recording their new album so I thought now would be a great time to do a quick interview with an amazing group of guys.
Interview answered by Rasmus Stolberg of Efterklang

How long have you all been playing together for?
we played our first concert under the name Efterklang in Copenhagen March 6th 2003. The lineup has pretty much stayed the same since allthough Rune Mølgaard is more like secret member now as he does not tour with us.
we started the project in December 2000 and before that some of us have played in other projects. Mads and I formed our first band together around 91 when we 10 years old.

Do you have much preparation before a live show?
we prepare a lot before a tour and then the shows are sort of back to back day after day.
Last time we took a lot of time out of the calendar to rehearse was two years ago just before we started touring with Parades.
Then of course you evolve things on the road and you go into rehearsal when you can
We look forward to January and February 2010. This is when we will begin preparing our new live setup for the third album touring
What has been the highlight of Efterklang so far?
there are so many. Everytime we travel to a new country or city and find people there that we can relate to and who like our music then we feel like the luckiest band on earth

What were your expectations with Parades, were you surprised with how well received it was?
yes and no. We are modest people, but to be honest I did feel that Parades was something special :-)
Before the release we sat down and wrote down all these things we would like to achieve with the Parades release. Where we would like to tour and so on.
A year and half later all the things on our list had materialzed. That felt really powerful to experience

You are in the process of recording a new album right now, the follow up to 2007's Parades, will this be different from the other Efterklang records?
this might be the most extrovert Efterklang album to date. We have used more classical song structure, lots of drums and Casper has stepped up as the front singer like we know him from our live concerts. It is also a collection of songs rather than a whole piece that you need to listen to from start to finish to enjoy.
What other interests do the rest of the band have besides playing music?
we also release music and we listen to music and we record and compose music :-)
besides from this I don´t think we have other interests except for our girlfriends of course!
Finally, what have you all been listening to recently that you can't get out of your head?
Peter Broderick is playing a new song on this tour we are currently on (he supports the concerts). It is called Everything is Small and I can´t get it out of my head.
Besides that I think the latest Dirty Projectors album is essential. A little late I have also started to pick up on Arthur Russell recently